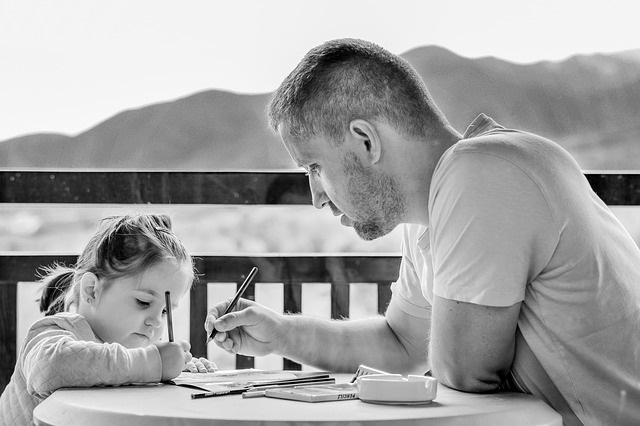 Helping adults be intentional with the children in their lives. 
The motto of the ABC Jesus Loves Me website.
The Be Intentional 2018 Planner.
A new wire-bound, 12-month calendar notebook to help adults be intentional each day.
Hang around for a while and you will realize Be Intentional is more than a buzz phrase.
As the mother of a teenager and three elementary-aged children, I am realizing I have just a faction of time to lay a firm foundation of truth in my children.  Whether it is teaching letters and numbers, doing laundry, or running errands, God has commanded me to impress on my children to love God and love others (Deuteronomy 6:4-9).  And if I am going to make an impression, I have to be intentional with the time that I have.
Family Honor Plate
As our children's activities get more and more frequent, I realize that I need to seize every opportunity available.  This is probably why I jumped at the opportunity to review the Family Honor Plate when it was presented to me.
Similar to a family birthday plate idea where the child gets to eat on a special plate on their birthday, a child is chosen to eat on the Honor Plate when you see them exemplify a particular character.  To make it personal to your family, supplies are provided to decorate the rim of the plate.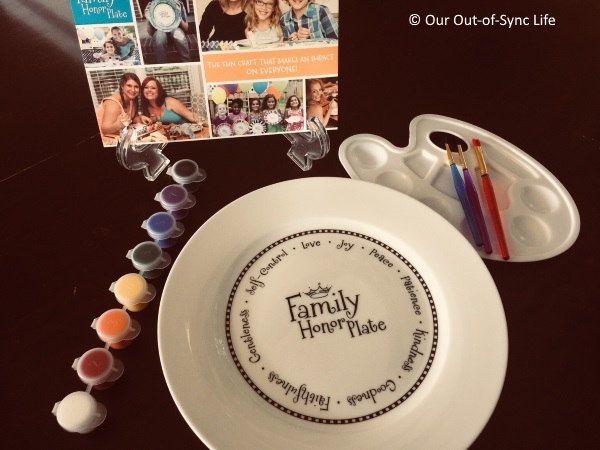 All supplies are included except for isopropyl alcohol to clean the plate and an oven to set the paint.
Be Intentional
Here are a few ideas to use the plate with your family.
Search for Virtues
As you go about your day, look for demonstrations of the Fruit of the Spirit in your family.  At supper, set the honor plate at the seat of the person who displayed a specific virtue.  Use mealtime to talk about the behavior that you saw.  Or, nominate a child to present a member of the family with the plate and explain why.
Display
Using the included plate stand, display the plate as a reminder of the various traits.  Use with the 4 and 5 Year ABCJLM Curriculum when discussing character traits and the "Bee" Attitudes.
Discipline 
When you see your children demonstrating – or not demonstrating – the Fruit of the Spirit, bring the child to the plate to talk about the choice they made.
Encourage
It is easy for quiet children to not receive the encouragement that they need.  Use the plate to encourage a child who quietly shows positive character.
Craft
Purchase plates for a birthday party activity or Sunday School class to decorate and use in their home.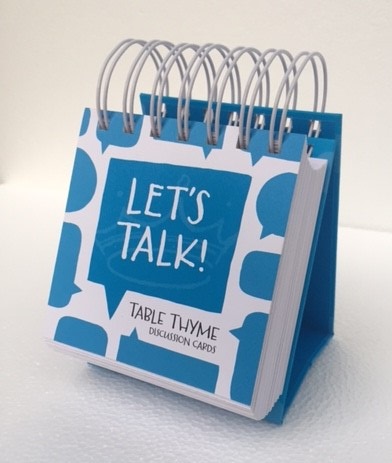 Let's Talk Table Thyme Discussion Cards
The second part of the review includes the Let's Talk spiral bound cards.  Double-sided cards provide 365 questions to produce conversation, learn more about each other, and create memories.
While the use is geared toward meal times, these cards could be used for Family Game nights, while traveling, or in short car rides around town.  Questions vary in depth so some may not be conducive for all ages.
Here are some example questions.
What is something that made you laugh recently?  Why?
When was a time you felt very comfortable in someone else's home?  Why do you think you felt so comfortable? 
What is something that you stopped doing that you wish you still did?  Why?
What is the most special item in your bedroom?  Why?  
You will notice that all questions end with the question "Why?" to further the discussion.
Be Intentional
Benefits of the Let's Talk spiral bound cards.
Helps you get to know your child.
Teaches the child to form an answer and support it with details.
Taking turns and listening.
Leads to further questions.  Some of these questions may need to occur one-on-one with a child.
Pragmatics practice.
Open communication in your family.
Communication builds healthy relationships and creates memories.
I find that written out questions are very helpful when I am tired and can't think of topics to talk about.  It also helps behavior during mealtime or while traveling to have a specific activity.
Just in time for Christmas, both the Family Honor Plate and Let's Talk Cards are available to order on the HonorPlate website.
---
Giveaway:
Before we can Be Intentional with our children, we have to lay a foundation of love and trust through discipline.  Desiring to empower families within the Our Out-of-Sync Life and ABCJesusLovesMe family, a generous couple approached me about placing quality resources in homes.  One of two giveaways, they have offered to give away four copies of a Love and Logic Parenting Book:  Early Childhood, Parenting with Love and Logic, or Parenting Teens  ($18 value).
To enter, click on the rectangular image below.  This giveaway will end on Monday December 11th @ 12:00 p.m (CST).  Four winners will be announced December 12th on this blog so be sure to come back and see if you have won!

Or click – https://goo.gl/forms/q9wE3hD7ZC1kfpPd2
One entry per household, US residence only. Click to read our Giveaway Rules.
While this couple has asked to remain anonymous, I want to humbly thank them for this incredible donation.
---

Thank you to HonorPlate and FlyBy Promotions for allowing me to honestly review these products.