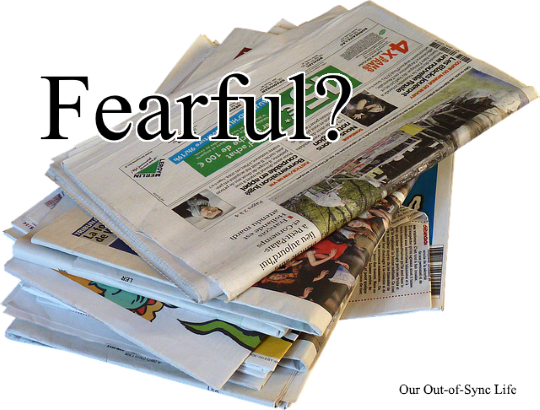 I am a news junkie.  Each day I read the archaic information piece made of ink and paper after watching the news on TV.  I feel as a Christian it is important to know what is happening around us in politics and society.
But not lately.  I know what I will hear if I turn on the news and unglove the paper.   Hate.   Lies.  Corruption.   Selfishness.  Pride.  And it makes me sick.
We are living in a times where the enemy is seeking and destroying.   I don't claim to predict the future but from what I have read, it is not going to get better on this earth.  As man turns from God, it will only spiral downward.
Especially as a mom, I can become easily overwhelmed with all of this yuck.  I fear for my family's safety, our life as we know it, and for our country.  My gut reaction is to run and hide. Panic.  But I am reminded that I don't have to live in fear.
Remember the story of Peter in Matthew 14?   A storm comes up and fears are high.  Trusting Jesus, Peter hops out of the boat and begins walking on water.  But as soon as Peter takes his eyes off Jesus, he notices the waves threatening to engulf him and he begins to sink into the swirling waters.  Peter was fine until he lost focus.  
How I can relate!   The yuck in the news is swirling around me threatening to uproot everything I know.  Instead of getting overwhelmed by the mess of this sin-filled world, it's time for me to take my eyes off the towering waves and place them on Jesus.
No, it doesn't mean that the waves will calm.  But it does mean that my focus will be on the HOPE of Jesus instead of the distraction of the enemy.  
Will you join me?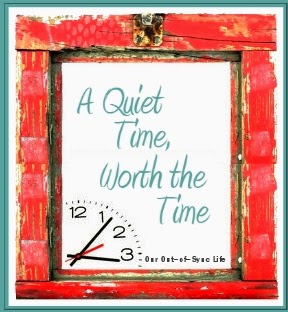 Feeling hopeless?  I encourage you to daily find hope in the Word.  Read my free ebook, A Quiet Time, Worth the Time.