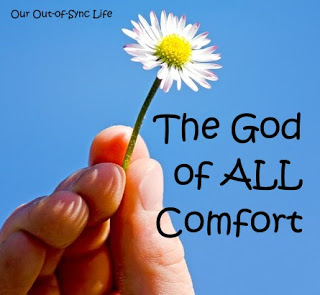 Kristin realized she was a sinner saved by grace.  But, she was stuck.  Everything she tried ended with excuses and in failure.  While she desired God to take control of her life, she continually sought out her "mommy drug" for comfort.  Something to make the tough situations of the day bearable.  She knew that there was more to the Christian life than this, but what was it?  (If you haven't read the beginning of Kristin's story, please click to read "Are You Empty?")

Let's rejoin Kristin's story and see how her source of comfort changed. 
In all the honesty that I could muster I cried out to God. 
God, I really want to spend time with you in the mornings.  Can you maybe make me NOT tired so that it'll be easy to do that?  And also, I really want to eat well so I can have the energy to be a godly wife and mother, so could you also make carrot sticks taste like M&Ms?  And while you're at it, it'd be great for my husband to get a big bonus at work so I don't have stay on budget this month.
With loving yet firm hands, God turned my eyes to Him.  He showed me Scripture depicting true trials.  He opened my eyes to the truth of my situation.  Seeing things without blinders, I felt pretty ridiculous for my selfish excuse-ridden prayer.
While I don't think there's anything wrong with enjoying God-given food or purchasing items within your budget, I realized that I was turning to these immediate satisfactions instead of turning to HIM for comfort.  
Remember how my story began with a room full of empty boxes?  See, no matter how many boxes I acquired and how hard I tried to fill them up, they remained empty.   
Until I daily began allowing Jesus to be my comfort and fill me up, I was empty.
After my selfish prayer begging God to turn carrots sticks into M&M's, God lead me to 2 Corinthians 1:3-5. 
Praise be to the God and Father of our Lord Jesus Christ, the Father of compassion and the God of all comfort, who comforts us in all our troubles, so that we can comfort those in any trouble with the comfort we ourselves receive from God. For just as we share abundantly in the sufferings of Christ, so also our comfort abounds through Christ.
Did you see the number of times the word "comfort" is used?  These verses even call God the "God of all comfort."  There is no reason for me to turn to my mommy drug.  He is all the comfort that I need!
Ok, that sounds good.  But how does that look in REAL life?

Daily I began praying, "God, please show me how You are comforting me."  This is what the Holy Spirit has brought to my mind thus far:

–His comfort looks like me sitting on the kitchen floor and sobbing out to Him in exhaustion at the end of a long week and then having my husband come home and put the kids to bed and draw me a bath – without me even asking.

— His comfort looks like saying no to one more TV show… so I can go to bed… so I can wake up early… so I can get some precious, life-giving time with God before my littles wake up.
–His comfort looks like closing down that online shopping website and sitting outside to listen to the birds sing and the
sound of the wind in the trees, and praising God for the beauty of His creation.
Allowing Him to open my eyes, I am realizing God's comfort is all around me.  Actually, I think God loves lavishing His comfort on me, both the asked and unasked.  He loves to be the one I run to when I have nothing left to pour out. 
But generally speaking, I don't think He's going to hit me over the head with a frying pan and pry the Oreos out of my
white-knuckled grip.  I think He gives me the choice to turn to Him for comfort, just like He gave me the choice to let Jesus cover my sins for salvation.Kristin, thank you so much for sharing your story.  Oh, how so many of us can relate. 

Friends, run into His arms.  Cry out to Him every time you feel the urge to grab your "mommy drug."  Be honest with Him.  He can handle it, even when you beg Him to turn carrots into M&M's.
How it must bring joy to our Father when we allow Him to be the Lord of our lives.  The job He desperately wants to fulfill.  When we go directly to our Daddy, climb into His lap, and allow Him to comfort us.
To conclude, there is only one question to ask…Where are you looking for comfort?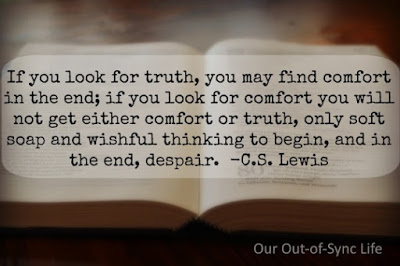 Kristin Hooper is a globetrotting mom of two with a heart for helping other moms find joy in living overseas with kids.  To read more about her adventures, check out her blog
GlobetrottingMom.