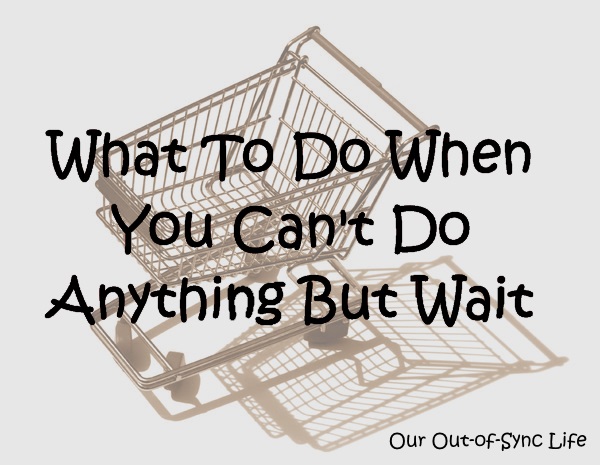 I've made more trips to Walmart than I care to count. Living in Arkansas (aka Walmart World) you can't help but run into a Walmart at every turn. But it was a trip four years ago that I have been unable to forget. Read about this life-changing visit to the place that promises to help us "Live Better."
How many times have you been in a hurry at the grocery store and found yourself in the slowest line known to mankind? The line that leads to no-where?
The person in front of you takes forever to get the cart unloaded, has a million coupons, and the cashier talks more than scans. You check the clock fourteen times and force your lips to raise into a smile when the customer in front of you and cashier try to involve you in their chit-chat. If it wasn't for the fact that all of your groceries are laid out on the belt, you would scoop them back into your cart and choose another line.


Seriously, who has time for this meaningless activity??
Last week, I was that slow customer. With an overflowing cart, I had a few match-ad items and several BOGO free coupons. Shouldn't have been a big deal except the coupons really threw my cashier for a loop. She even had to call for the manager (How embarrassing!). At one point, there were three people waiting in line behind me. By the time I was ready to pay, it was a lone older lady waiting patiently for me to finish.
When I finally received my receipt, I turned to this older lady behind me and apologized for the long wait that she had to endure. Expecting that plastic-smile look, I instead was greeted with a sincere smile.
After my pathetic apology, she said,
"Don't worry dear. It gave me time to pray for you and your precious little ones."
Here I was holding a very tired baby, trying to control a Spirited Child, and purchasing a cart overflowing with groceries for our family of six, and God uses a precious woman to bless and pray for me. I should have been praying for her to have patience with my family!
Even as I write this a week later, I am blown away by those few words that humbled…blessed…inspired…and convicted me.
Tears came to my eyes for so many reasons. The grace she gave me was filled with patience and understanding as she waited. The love she poured out with prayers and a sincere smile. The kindness she shared in her precious words.
I wish I could find this woman. I wish that I could sit down and glean wisdom from her. Jesus is so in her life that her smile and eyes overflowed with Him. Jesus is so in her life that her words were powerful. Jesus is so in her life that she took "wasted time" and turned it into a prayer feast. She used something so mundane as a trip to the grocery store to bless those around her.
Dear God…when people see me, I want them to be overwhelmed with Your image. I want them to see Your love, Your grace, Your forgiveness. Remove "me" from the picture. Thank you for this lady who allowed You to work through her. Bless her as she blessed me. In Jesus' name…
Do you desire to overflow with Jesus? It will happen when you allow Jesus to daily pour into you. Begin today but reading my free ebook "
A Quiet Time, Worth the Time
."