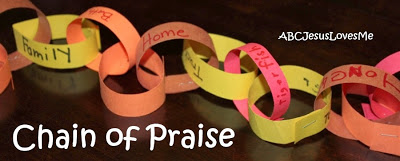 I have a confession to make.  We have part of our Christmas decorations up.  It's true.  And if truth be known we put up the tree because we had a free weekend, not necessarily because we wanted it up in the middle of November.  The future wasn't looking like it would lend us a chunk of time to get it done before our annual Christmas Neighborhood Open House that takes place the first weekend in December.
While I love the lights and everything good that Christmas represents, I want to be careful that we don't skip over Thanksgiving and all that the holiday stands for.
Today's post contains some simple ideas to pull your mind back a little bit and focus on the purpose of the next seven days.  I want to challenge you to pick one – just one – idea and run with it.  Create a tradition for Thanksgiving and spend time praising God for the "little kisses" that He gives us each and every day.
Here is a list of some Thanksgiving traditions to choose from.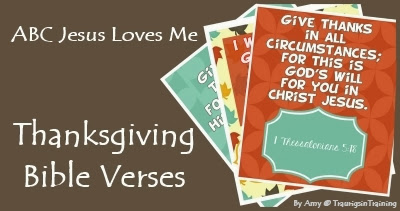 1.  Each day for the next seven days, read a Scripture that focuses on Thanksgiving.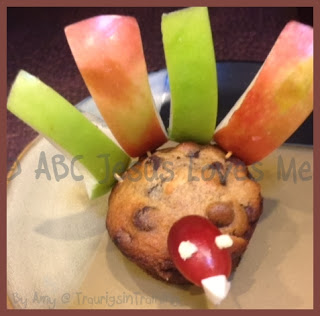 2.  Here's an idea for Turkey Muffins from Amy at Traurigs In Training.  Super cute and so easy to do.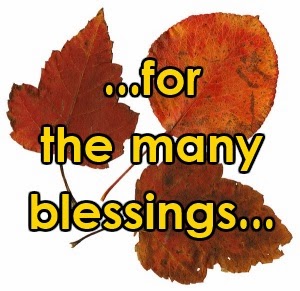 3.  For the next seven days, begin each meal with Thanksgiving song.  It's a piggyback song to "Where is Thumbkin?".  Take turns singing what you are thankful for before eating a meal, in the car, or during family devotions time.
Thank you Father 

Thank you Father

For this ______ (day, food…etc)And your many blessings

And your many blessings 

A-men, A-men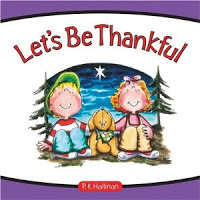 4.  Let's Be Thankful is a wonderful book to introduce the true meaning of Thanksgiving.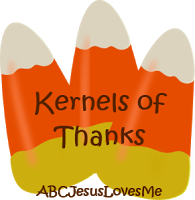 5.  Kernels of Thanks – Circle the table to share in thanksgiving with kernels of corn.  This activity does a great job of tying the Pilgrims with today's Thanksgiving.
– This is a fabulous transitional idea shared with us by Amy at 
Traurigs In Training
. Help the kiddos understand the relationship between the two holidays.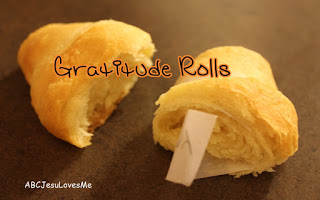 7.  
Gratitude Rolls
 – Hiding thanksgiving in a crescent roll.  Love this tradition.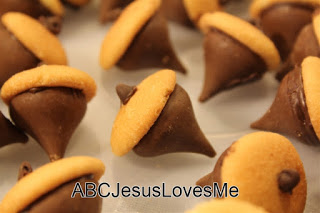 9. 
Table Cloth of Thanks
 used year after year. This is the tradition that we are going to focus on this year.
So, which activity will you do this week?  Pick one and share it in the comments or on Facebook.