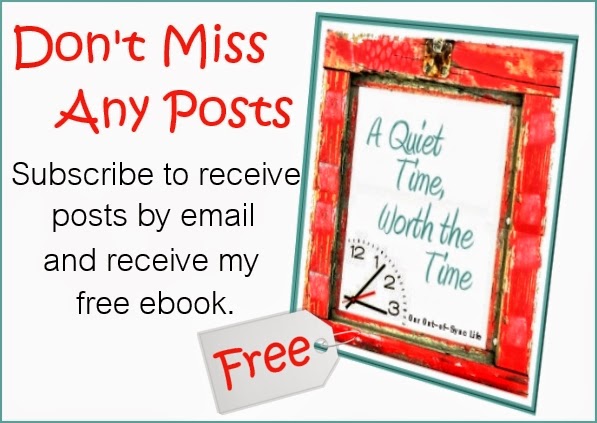 Up to this point, blog posts have automatically been posted to several groups and pages on Facebook. But I feel that I am doing my Facebook friends an injustice in doing this because I am keeping them from being able to read the free ebook "A Quiet Time Worth the Time." I believe so much in what God shared with me in my ebook that I don't want to keep you from this opportunity.
To bribe…I mean, encouragement you to become a subscriber, I am offering an ABCJLM Curriculum or Workbook giveaway. You choose which book! All you have to do is subscribe by email and confirm your email address to enter to win.
Use the box below or look in the right-hand column of the Our Out-of-Sync Life blog to sign up today!
Enter your email address:
Delivered by FeedBurner
Very Important: After entering your email, you must verify you email address to
begin receiving the blog posts to your email. If your spam filter is
on a high level, you may need to add the Feedburner email address (noreply+feedproxy@google.com) to the allowable senders list. The images below show you the next steps to subscribe and confirm, if needed. Also add heidi (at) abcjesuslovesme (dot) com to your email address book so the emails will not go to spam.
And if you are currently receiving our posts in your email, you are already signed up!
Want to earn bonus points?
Help a friend subscribe! Make sure your friend subscribes and confirms his/her address and then leave a comment with your friend's email address (everything before the @ sign only, please) so that I know you helped him/her subscribe. There is no limit to how many friends you can bring on board.

Giveaway details: I will choose and announce one random winner on this blog on Wednesday, June 25th. (So, be sure to check back to see if you have won!)
You will have until Tuesday night (6-24-14) at 11:59 p.m. (CST) to
enter in this giveaway. You must have an US address to win. The winner will have the option of one ABCJLM Curriculum or Workbook.

Disclaimer: I despise junk email and will never sell your email address.