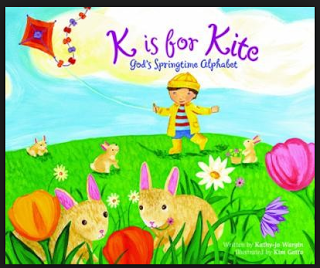 A few weeks back I shared S Is for Snowman: God's Wintertime Alphabet. If you remember, this book changed my opinion of alphabet books!
K is for Kite: God's Springtime Alphabet is just as delightful and perfect for this time of year.
This book focuses on two levels of the alphabet. First is the
individual letters – K. The entire book focuses on springtime (kites and Easter being two activities). The second
level is how each page of the book uses a different letter from the
alphabet (from a – z) to tell about Spring. While not a story with a
plot, the book flows very well explaining God's creations of springtime. Each page begins with (letter) is for ____ and then goes
on to explain the word using rhyming lines. The letter is capitalized
any time a word begins with that sound.
L is for Lamb
White Lambs in the meadow – to them all is new.
God is our shepherd, and we're his lambs too.
The illustrations are soft and detailed show many different levels of spring. The people show emotion in their activities.
Honestly,
the book was delightful. I hope to read many more in Kathy-jo Wargin's
series! These books would be wonderful for the Letter of the Week practice. I have added it to the Letter K Ideas.
Add K is for Kite: God's Springtime Alphabet to an Easter basket and enjoy reading it with the child in your life. (Click on link to order from Amazon.)


Thank you to Zonderkidz for allowing me to review this fun book!