Amy at Traurigs In Training shares another idea for Thanksgiving. What I love about this tradition is that it is simple enough for toddlers and preschoolers to do.
Supplies:
– Mod Podge


– porcelain plate that is "oven safe"
– magazines
– paint (optional: if you want to "tint" the Mod Podge

after it dries)
– permanent markers
Directions:
Option #1 – With your kiddos, choose pictures from magazines of things they love and are thankful for. Cut out and use the mod podge
to stick the pictures to the plate. Let dry.
Use this plate each Thanksgiving as a fun centerpiece or wall art. It's a great reminder of gratitude. This plate should not be used for food but only as a decoration.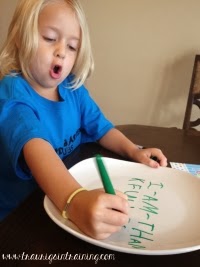 I love how Amy's daughter is sounding out the words!
Option #2 – For a food safe option, allow the child to draw with permanent markers on a plate. Ask the child to draw images representing items in which they are thankful. Place the plate in a cool oven, bake at 350 degrees for 30 minutes. Allow the plate to completely cool. Handwash. Use the plate for the child's Thanksgiving dinner each year!
Marie shared the idea of reading Mrs. Rosey Posey and the Fine China Plate before doing this activity. Thank you to Marie for this great idea as we love Mrs. Rosey Posey!
Disclaimer: I have not personally tried writing on plates but love the idea. Let me know how it works!


How would you use a Thanksgiving Plate?