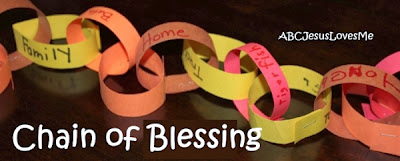 Last year we created a "Chain of Praise" during the month of Thanksgiving. During supper each evening, everyone shared one item of thanks and wrote them on a strip of paper. Then on Thanksgiving, we read through the entire list before eating.
This year, I wanted to do another chain but I knew that with the kids being a little older, we could take it to another level. Just wasn't sure how. Leave it to the Holy Spirit to combine a Thanksgiving Tradition with a heart issue we are dealing with.
Let me explain.
As I have shared before Bubs does not have Autism. But the symptoms of Executive Function Disorder combined with ADHD, Sensory Processing Disorder, and high anxiety results in similar Autistic characteristics. Bubs is incredibly egocentric. He thinks about him and himself alone. He can not see how his words, actions, or behaviors affect others.
A situation happened at school that burst my pride and broke my heart. Bubs said something incredibly mean and no matter how I presented the problem to him, he couldn't see how it affected others or himself. He only sees the negative of his family members and people around him. No matter what we do for him or how we love on him, he hangs on to the negative.
During our conversation of the issue the Holy Spirit showed me how I can combine last year's "Chain of Praise" with Bubs' self-centered attitude to make a "Chain of Blessings."
That evening we sat down for a Family Meeting. I explained how this year we would be watching for ways our family members bless us. These blessings would be written on strips of construction paper and made into a chain.
Interestingly the kids were only able to share ways they had blessed others and not how others had blessed them. I was shocked! After a few minutes, I stopped the exercise and said that Mommy and Daddy would share. Daddy started by sharing a way that I had blessed him. I echoed with another example.
Later we discussed "love" and how showing love is blessing someone. I asked the kids for ways we can show love to each other. Again, they didn't know how to answer my question. They were surprised to know that the Bible had the answer in I Corinthians 13.
4 Love is patient, Love is kind. It does not envy, it does not boast, it is not proud. 5 It does not dishonor others, it is not self-seeking, it is not easily angered, it keeps no record of wrongs. 6 Love does not delight in evil but rejoices with the truth. 7 It always protects, always trusts, always hopes, always perseveres. 8 Love never fails.
As soon as I shared a few, they added in the parts of the verses that they remembered.
The next night at supper we continued with new examples from Mommy and Daddy. This time we shared one blessing for each child. It wasn't long before the kids were sharing ideas of their own. Even Peanut (age 2) came up with an idea.
Here are some ideas from our first blessings session:
Mommy made me supper.
Daddy works hard at work.
Sweet Pea shared her ice cream.
Little Man encouraged me when I was frustrated.
To end we discussed how our blessings make God smile! And when we love one another we are showing that we love God.
John 13:34 – 35 "A new command I give you: Love one another. As I have loved you, so you must love one another. By this everyone will know that you are my disciples, if you love one another."
Tomorrow evening, the older kids will be given the opportunity to write the blessings themselves. I am so excited to see what they come up with!
If your children are too young for this activity, use the idea from the Attitude of Gratitude and write down blessings you see your child do.
Tomorrow: Thanksgiving Traditions continued!


How will you use the "Chain of Praise or Blessing" in your home?