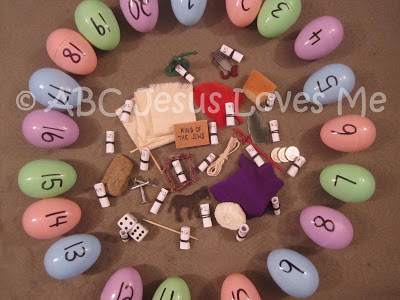 Thank you to Bonnie for sharing this idea and the images.
I came across the idea of Resurrection Eggs a few weeks ago and as soon as I saw some pictures of them, I knew I wanted to put together a few!
The whole idea behind it is that the eggs help tell the story of Jesus' last days on earth, His death, and His resurrection. It can be completed as a countdown to Easter or as a stand alone activity that you do all in one sitting. Each numbered egg contains a scripture verse (rolled up scroll style) and a corresponding trinket that relates to that part of the story.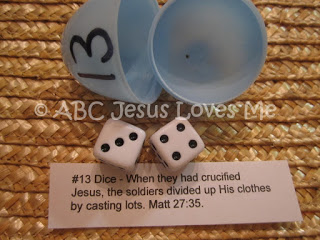 A lot of Resurrection kits contain 12 eggs (find out more here), but I was only able to pare my eggs down to 20. There are just too many points of the story I wanted to include! I chose to include some aspects of the Easter story that I imagine may be too graphic for some young or sensitive children. For example,  one egg contains a toy sword with the verse that tells of Jesus' companion cutting off the ear of the
high priest's servant.
#1 Donkey – The disciples brought the donkey and placed their cloaks on it for Jesus to sit on and Jesus entered Jerusalem. Matt 21:6-10.
#2 Palm Branch – The crowd cut branches from the trees and spread them on the road and shouted, "Blessed is He who comes in the name of the Lord! Hosanna in the highest heaven!" Matt 21:8-9.
#3 Three Dimes – One of the Twelve, Judas, went to the chief priests and asked, "What are you willing to give me if I deliver Him over to you?" So they counted out for him thirty pieces of silver. From then on Judas watched for an opportunity to hand Him over. Matt 26:14-16.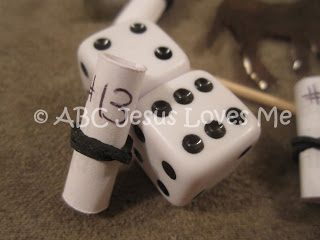 #4 Bread – Jesus took bread, gave thanks and broke it, and gave it to them, saying, "This is My body given for you; do this in remembrance of Me." Luke 22:19.
#5 Praying Hands – Jesus went with his disciples to a place called Gethsemane. He fell with His face to the ground and prayed, "My Father, if it is possible, may this cup be taken from Me. Yet not as I will, but as You will." Matt 26:36-39.
#6 Sword – Then the men stepped forward, seized Jesus and arrested Him. With that, one of Jesus' companions reached for his sword, drew it out and struck the servant of the high priest, cutting off his ear. Luke 22:51. But Jesus answered, "No more of this!" And He touched the man's ear and healed him. Matt 26:50-51.
#7 Feather – Another asserted, "Certainly this fellow was with Him, for he is a Galilean." Peter replied, "Man, I don't know what you're talking about!" Just as he was speaking, the rooster crowed. Then Peter remembered the word the Lord had spoken to him: "Before the rooster crows today, you will disown
Me three times." Luke 22:56-62.
#8 String – They bound Jesus, led Him away and handed Him over to Pilate. Mark 15:1.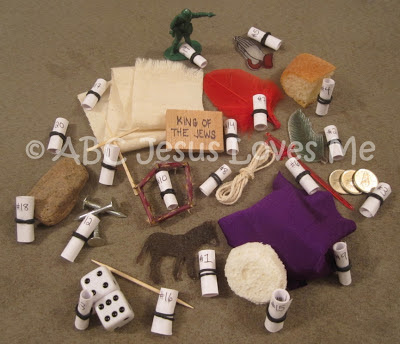 #9 Purple Fabric – They clothed Jesus in a purple robe and went up to Him again and again, saying, "Hail, king of the Jews!" And they slapped Him in the face. John 19:2-3.
#10 Thorns – The soldiers twisted together a crown of thorns and put it on Jesus' head. John 19:2.
#11 Cross – Carrying His own cross, He went out to the place of the Skull (which in Aramaic is called Golgotha). There they crucified Him. John 19:17-18.
#12 Nails – This man was handed over to you by God's deliberate plan and foreknowledge; and you, with the help of wicked men, put Him to death by nailing Him to the cross. Acts 2:23.
#13 Dice – When they had crucified Jesus, the soldiers divided up His clothes by casting lots. Matt 27:35.
#14 Sign – Above His head they placed the written charge against Him: THIS IS JESUS, THE KING OF THE JEWS. Matt 27:37.
#15 Sponge – Later, knowing that everything had now been finished, and so that Scripture would be fulfilled, Jesus said, "I am thirsty." A jar of wine vinegar was there, so they soaked a sponge in it, put the sponge on a stalk of the hyssop plant, and lifted it to Jesus' lips. When He had received the drink, Jesus said, "It is finished." John 19:28-30.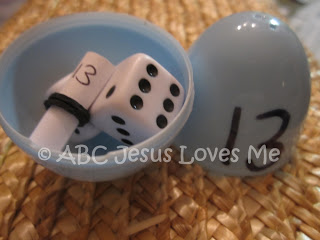 #16 Toothpick – But when they came to Jesus and found that He was already dead, they did not break His legs. Instead, one of the soldiers pierced Jesus' side with a spear, bringing a sudden flow of blood and water.  John 19:33-37.
#17 Linen – Joseph, who had himself become a disciple of Jesus, took His body and wrapped it in a clean
linen cloth. Matt 27:57-59.
#18 Rock – Then Joseph rolled a stone against the entrance of the tomb. Mark 15:46.
#19 Soldier – They went and made the tomb secure by putting a seal on the stone and posting the guard. Matt 27:66.
#20 Empty! – "Don't be alarmed," the angel said to the women. "You are looking for Jesus the Nazarene, who was crucified. He has risen! He is not here." Mark 16:6.
Read more Easter ideas on the ABCJesusLovesMe website.