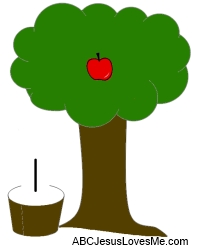 I love hearing from you! People just like you send me suggestions, notify me of errors or broken links, or simply say "Hello!". It is through these emails that I can make the ABCJesusLovesMe Preschool Curriculum better!
Teresa emailed me with an idea on improving the Apple Tree Posters used in 2 Year Curriculum. I am so excited to share this idea with you because you are going to love it too! She shares:
To make the Apple Tree Posters more interesting, we decorated each tree with different art media.


#1 – color with crayons
#2 – colored pencils
#3 – markers
#4 – painting with a brush
#5 – fingerpainting
#6 – pasting corresponding construction paper shapes (leaves, trunk, basket)
#7 – tear and paste tissue paper
#8 – dippy dot paints
#9 – cut and paste contruction paper squares
#10 – water colors


The apples were added when the paint had dried. (The only problem I
encountered was difficulty with the stickers sticking to the
paint. They could be reinforced with glue though.) The children enjoyed
the activities and when it was all done, not only did they have a number
book to count with, but it was also an appealing keepsake of artwork!
Isn't this great? Combining fine motor, mathematics, and art education!
Often times people apologize for sharing their ideas or reporting a broken link or a misspelling. These comments are blessings to me and to other users of the curriculum and website. So, keep them coming. Together we will make a better website for all!


What suggestion do you have for me?