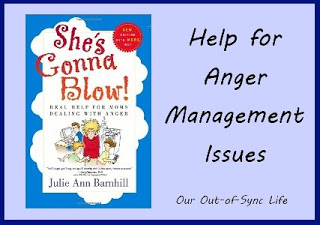 Yesterday I began sharing little nuggets of wisdom that I gleaned from Julie Ann Barnhill's book She's
Gonna Blow!: Real Help for Moms Dealing with Anger. Today is the second in this week-long series providing you with practical tips to use in your own life.
Wisdom Point #2 – Laugh!
A couple of years ago, I shared on this blog a break-through moment that I had. It seemed so simple but yet it has been monumental to my parenting. Laughter. I need to laugh throughout the day. Not take events, issues, and my children so serious!
Julie Ann Barnhill stresses this same point in a "Time Out/Tamer" in her book She's Gonna Blow.
Read with me:
In so many stressful parenting situations, laughter can save you. Take advantage of the fact that children really are funny…and let the tension escape through a laugh instead of a tantrum. Try to get in the habit of choosing laughter more often – not critical, sarcastic laughter or derisive "I'm laughing at you" laughter, but healthy, cleansing, "isn't this ridiculous?" laughter. Cultivate this quality and teach it to your children. Read the funny papers together. Share silly jokes. Try to look for the funny side of your everyday dilemmas.
Wow! So much wisdom.
Friends, make a goal today to laugh about one tense situation. Just one. See how it feels. Then come back and share what you learned!
Tomorrow, Wisdom Point #3.


What did you laugh about today?


Thank you to Harvest House Publishing for allowing me to review this helpful book.