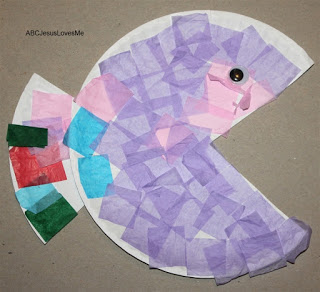 Super simple! Here is another fish craft to be used with Creation, fish books, or other Bible stories.
Fish Plate: Cut a triangle out of a paper plate to make a fish's mouth. Glue the
triangle on the back of the paper plate to make the fish's tail. Glue on
squares of tissue paper, color, or paint. Add a googly eye.
Be sure to look at all of our Bible story crafts and activities!


Paper plates make really cute crafts. What other craft items do you make with them?