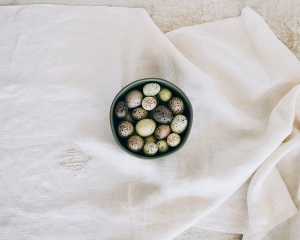 For some time I have been pondering how to create a "Blessings" monument much like Noah (Genesis 8:20) and other men did in the Old Testament. A way to remember the blessings God has provided our family along the way. I think I have found it.
The Tablecloth of Thanks is another Thanksgiving idea that I found scattered across the internet.
Purchase a white table cloth. Using permanent fabric markers, have each person write something which they are thankful or a way that God has blessed your family this past year, along with their name and the year. If the child is too young to write their name, instruct them to draw a small picture.
After the meal, wash the tablecloth and store until next year. (Be sure to read the instructions on the markers to be sure that the writing will not fade.)
Every Thanksgiving add to and remember past blessings.