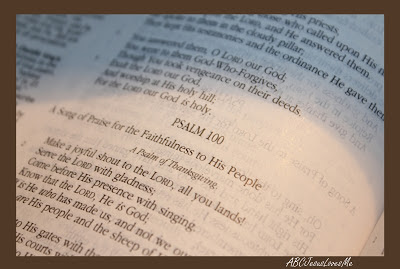 According to Wikipedia, the Pilgrims sighted land on November 9,1620.  "The passengers who had endured miserable conditions for about sixty-five days were led by William Brewster in Psalm 100 as a prayer of thanksgiving."
What better way to begin your Thanksgiving celebration than reciting this Psalms together as a family!
Make a family goal to memorize these five verses for the month of November.
Psalm 100
A psalm. For giving grateful praise.

1 Shout for joy to the Lord, all the earth.
2     Worship the Lord with gladness;
come before him with joyful songs.
3 Know that the Lord is God.
It is he who made us, and we are his;
we are his people, the sheep of his pasture.

4 Enter his gates with thanksgiving
and his courts with praise;
give thanks to him and praise his name.
5 For the Lord is good and his love endures forever;
his faithfulness continues through all generations.
To help your children memorize this passage of scripture, here are actions to use.
Shout for joy to the Lord (hands at mouth as if shouting)
all the earth (wave hands around to say all)
Worship (praise hands)
the Lord with gladness (point to smile)
Come before Him (wave come)
with joyful songs (hands at mouth again)
Know that the Lord is God (point to brain)
It is He (point up)
who made us (point to self)
and we (thumb to self)
are His (point up)
We are His people (walking 2 fingers)
the sheep of His pasture (walking 4 fingers)
Enter His gates (open hands as if opening a gate)
with thanksgiving (sign thanks)
and His courts with praise (praise hands).
Give thanks to Him (sign thanks)
and praise His name (praise hands)
For the Lord is GOOD! (thumbs up)
and His love (hands on heart)
endures forever (thow out hands)
His faithfulness continues through all generations (rotate hands as if saying "on and on and on")
(Thank you Ashley for sharing this idea and actions.)
Below are several other verses that would be perfect for this season.

Psalm 107:1  Give thanks to the Lord for He is good, His love endures forever.
Psalm 107:8  Let them give thanks to the LORD for his unfailing love and his wonderful deeds for men.
Psalm 107:22  Let them sacrifice thank offerings and tell of His works with songs of joy.
1 Chronicles 16:8 Oh give thanks to the LORD, call upon His name; Make known His deeds among the peoples.
1 Thessalonians 5:18  In everything give thanks; for this is God's will for you in Christ Jesus.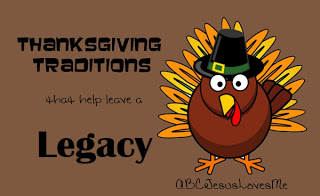 Glean more Thanksgiving ideas in our blog series – Thanksgiving Traditions throughout this month – and on the ABCJLM  website page – Thanksgiving Ideas. Be sure to "Follow" our blog (in the right-hand column) so you don't miss any great ideas!


What verses do you memorize or quote at Thanksgiving?