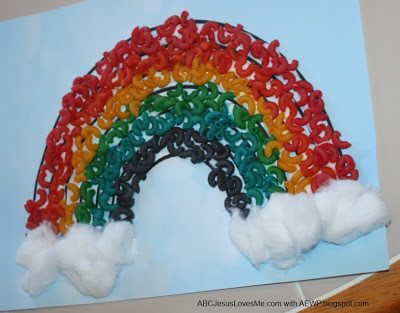 Alisha shared this adorable picture with us on our ABCJesusLovesMe Facebook Group and with her permission I wanted to pass it on to you!

Macaroni art is great fun for the kids.  They love the process of dying the macaroni and then gluing them on their craft piece or stringing them for a necklace.  And you can use any noodles to get different looks.  Place the dyed noodles in a box or container to create a great sensory tub as well.
There are two different ways to dye the noodles depending on the ingredients that you have in your home or your smell preferences – vinegar versus rubbing alcohol.
Directions – Place a few macaroni noodles in a zip-top plastic bag.  Add a few drops of vinegar or alcohol and 4-5 drops of food coloring.  Mix to distribute the color.  Open the top of the bag and let dry.  Dye more macaroni in separate bags.
Using the Rainbow template, place a thin layer of glue on the paper.  Add the colored macaroni to create a colorful macaroni rainbow.  
The ABCJLM website contains several printables that would work with dyed noodles.
 (Thank you, Alisha, for sharing this picture and idea with us.)