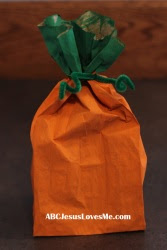 This is a simple idea that I came up with to create a pumpkin or jack-o-lantern for Halloween or Fall. Use it as decorations or as a craft. What's great about this craft is that a toddler can paint and assemble with a little help or an elementary child can do this craft on his own.


Craft: Stuffed Pumpkin
Paint a paper lunch bag orange on all sides, leaving the top two inches to paint green. Let dry. Stuff with crumpled up newspaper or grocery sacks. Tie off the top with a green pipecleaner and twist as the vine.
Use with: