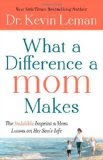 Boys needs their daddies. Studies have soon that when dads are present and active in a boy's life, the son is more apt to succeed, not do drugs, etc. But author Kevin Leman believes moms are just as important in their sons' lives. And, he has written the book What a Difference a Mom Makes: The Indelible Imprint a Mom Leaves on Her Son's Life
to prove it.
Leman begins by having the reader envision her son's wedding. If you son is still in diapers, this may seem light years away but Leman encourages all moms to start with the end in mind. What kind of husband do you want your son to be? What characteristics do you desire your son to possess as a employee and father? Then in Leman's own honest, lay-it-all-out-there writing, he explains how I can mold our sons to be the men God wants them to be.
Some points I learned (or relearned) in read:
In our home, I need to create an atmosphere of Acceptance, Belonging, and an attitude that my son is Competent (he has what it takes).
The three things that matter most in my son are his Attitude, Behavior, and Character.
This book is a wonderful collaboration of several of Leman's best-selling books. He picks out the highlights from his other books and adds in new thoughts – all while keeping raising boys as the focus. Below are a few of the main points and the previous books that Leman has written on them.
Also included are specifics insight and suggestions concerning the various ages and stages boys go through.
To make every mom feel uncomfortable (well at least it did me!), a chapter is devoted to a boy's growing interest in sex. If you have read Leman's Sheet Music book, this subject will be handled as you would expect him to discuss this subject. But, if you are not familiar with his humor and bluntness, this chapter can be a little jarring. It may be good to read this section with your husband to get his input.
This book gave me an inside view into my sons' thoughts, their personalities, and their needs from Mommy. I gleaned practical ideas that I can immediately implement. This is a book that I will keep by my bedside to return to many times in the next several years.
Perfect? No. Practical? Very. Highly suggest.
And for dads, What a Difference a Daddy Makes: The Indelible Imprint a Dad Leaves on His Daughter's Life
is also available.
Click to read other reviews that I have written on Kevin Leman's books.


What is your favorite Kevin Leman book?