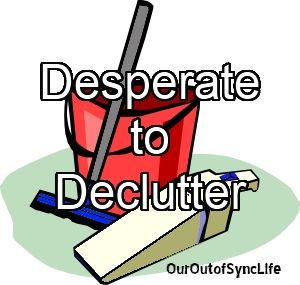 Yesterday we focused on the clothes closet.
Did you size it down? I sure did. Even got my hubs in on this project. We ended up with two garbage bags full of clothes to give away.
But what do I expect when I see clothes hanging up that I wore eight years ago when I taught. Yes, I thought I would "save" them for when I return to teaching. What was I thinking?
Today is an easy day. The goal is to finish the closet. Go through the rest of the "stuff" that calls your master closet home.
Same plan that we have been following.
Take down the curtains and immediately put them in the washing machine.
Go to the closet and pull it all out (except for the clothes and shoes you just went through).
Vacuum, dust.
Sort into keep, give away, and trash.
Place the curtains in the drier (if possible).
Place back what you want to keep.
Close the door to the closet. You are finished!!!!
For those who can't devote a morning:
Keep working on the drawers and hang-up clothing. Do one drawer or set of hang-up clothes a day and within a week you should see a huge difference.
See you tomorrow!