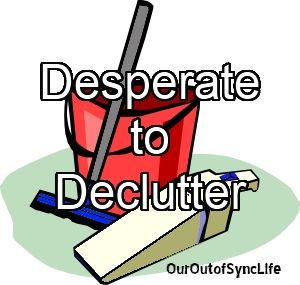 We are closing in on the second week of D2D. Are you starting to lose your zeal?
I understand.  We are undertaking a large task and it gets overwhelming and tiring.
Let's go to the source of encouragement.  The Bible.
Colossians 3:23 –
Whatever you do, work heartily, as for the Lord and not for men.
Is cleaning our homes work for the Lord?
One of the ABCJLM friends wrote this comment on Facebook:
Your posts lately are going right along with our sermon series about getting rid of baggage to make room for blessing.
I love the imagery.  Exchanging baggage for blessings!
Friends, we can't take baggage to eternity. Time to get rid of it!
Keep on and reap the eternal rewards.  I am excited to see God's blessings!
Tomorrow…bathrooms!