Two new Berenstain Bear books have graced the market. All Things Bright and Beautiful and The Berenstain Bears and the Easter Story are the latest by the mom and son duo – Jan and Mike Berenstain.
All Things Bright and Beautiful focuses on the song by the same name. Sunday School teacher Missus Ursula takes her students on a nature walk. The sibling bears wonder what a nature walk has to do with Sunday School. They soon learn, through the verses in the song, that God is throughout nature. Of course it helps if the reader can sing the song throughout the book but it is not necessary.
My favorite part of this book is how Missus Ursula demonstrated that learning doesn't just occur around a table with a pencil. She took the child out and made the learning personal and lasting. Perfect!
In The Berenstain Bears and the Easter Story, the Berenstain bears get excited about Easter – Easter candy that is. Through a play that another Sunday School class is putting on and with the help of Missus Ursula, the bears realize that Easter is much more than the candy.
The lines from the play simply explain the Easter story for child to understand. The illustrations convey the story very well. If you are struggling to explain Easter to your children, this book would be a good one to use. Use this book to tie together all of the Easter activities you have had the last few weeks.
Both books contains twelve stickers of different scenes from the book. Being part of the Berenstain Bears Living Lights series, these books contain a list of activities and questions to further the learning from the book as well.
One of the suggestions in the All Things Bright and Beautiful book is to make a Nature Poster which is an idea already used in the ABCJLM curriculum.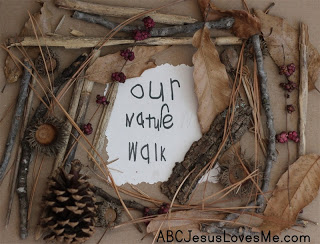 Thank you to Zonderkids for allowing me the opportunity to review these books.