Whether you are frugal, green, or just want the best for your kiddos, these baby wipes are amazing!!!
Before our first child was born, a couple of friends gave me a recipe to make homemade baby wipes.  Now four children later and 14.2 billion diapers changes (or so it has seemed), homemade baby wipes are all that we use in our home.  After you give them a try, see the savings, and realize how simple it is to make your own, I believe you will make the switch too!
I especially love these wipes on my babies' sensitive skin. We have battled countless cases of diaper rash through the years. Using these wipes doesn't burn their little bottoms.   Also, I love knowing exactly what ingredients are in the wipes.
Supplies:
– Tall, round 3 Quart container with a lid.  (I use the second to largest container that comes in a plastic canister set for dry baking ingredients.)
– Better quality paper towels (the cheap paper towels don't work well on a dirty bottom)
– Knife to cut the paper towel roll in two (serrated knife works best)
– Baby shampoo
Directions:
1.  Cut a paper towel roll in half so you have two short rolls.  I like to precut several rolls at a time since the cutting process makes a mess and is the largest pain of the process.  An electric knife is very helpful but not necessary.  A husband to do this job is the best suggestion!
2.  Set one roll inside the canister.  Set the other half aside for next time.
3.  Combine and stir together:
4.  Pour the liquid mixture over the top of the paper towel roll.  As the liquid soaks through, the moisture will loosen the cardboard center making it easy to pull out.  If you get lucky, it will bring with it the end of the paper towel roll.  If not, carefully pull on the wipes in the center to get the sequence going.
5.  Pull out the amount of paper towels (from the center) that are needed.  Reseal after each use.
6.  If the wipes are not wet enough or the lid doesn't get put back on, just add more water.  If the wipes are too moist, leave the lid off for a little while.
If you are out of the diaper stage, these work great for cleaning up messy hands and faces when you are on the go.  You can also use this mixture to re-wet purchased baby wipes.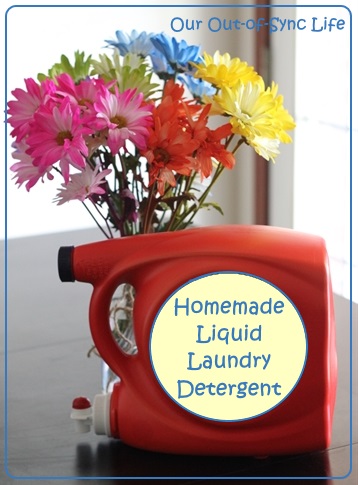 If you like our Homemade Baby Wipes, you may also enjoy our recipe for Homemade Laundry Detergent.

This recipe, image, and the directions are copyright of Our Out-of-Sync Life and JLM Media, LLC.