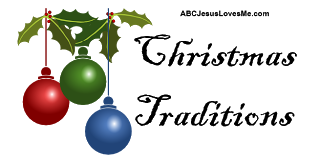 Here is another idea from the "Campbell" Family using the colors of the Wordless Book to explain the Good News of Jesus' birth:
Each year we made two Christmas cakes. One for our family to have and one to give to someone else. My siblings and I took turns giving the cake to someone.  (It usually was one of our teachers.)  When shared we explained the cake's symbolism to the receiver.

Start with a round chocolate cake.  The chocolate represented how dark our hearts are with sin before we know Jesus. (Romans 3:23 and Isaiah 53:6)  The round cake is a reminder that God's love for us has no end.  His love for us is so great that He sent His Son to earth.  (John 3:16)

Dig a little well in the cake and fill with cherry pie filling.  The cherries represented the blood that He shed for our sins.  (Ephesians 1:7 and Hebrews 9:22)
Top the cake with cool whip or white icing.  The cool whip or white icing represents how His blood washes our sins white as snow and He remembers our sin no more. (Romans 4:24 and Isaiah 61:10)

Cover the cake with gold (for Heaven) and green (for new life) sprinkles.
I love the simplicity of this cake yet the meaning is so rich.  Precious tradition to do with children of all ages.
Here is one more idea that can be done with a preschooler's short attention span.
Make a chocolate cake to represent the human sinful condition.  Frost with white icing for how Jesus washed away our sins.  Add a red candle to represent Christ's blood shed on the Cross.  A green candle represents renewal and growth.  A yellow candle stands for the golden streets of heaven.
Next week I will share a couple more ideas for birthday cake for Jesus for the older kids in your life.
Read more ABCJLM Christmas Tradition Ideas…