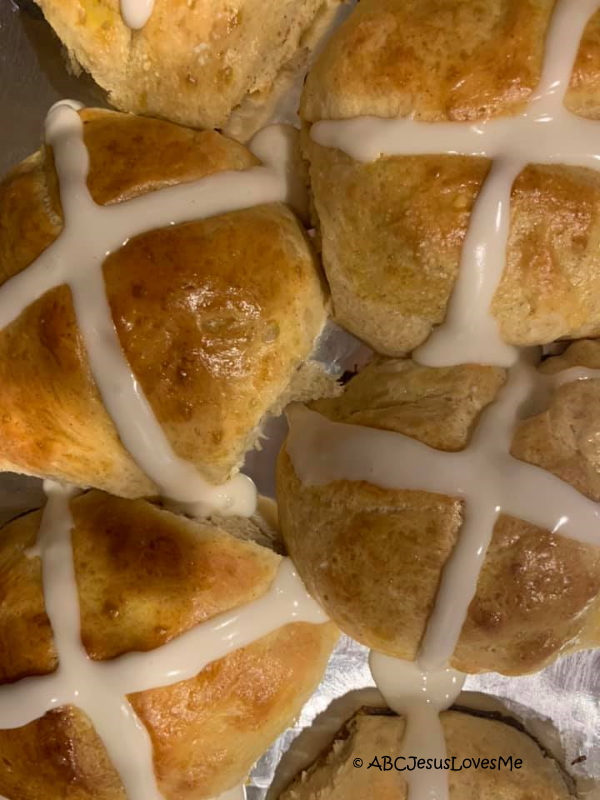 Today Sweet Pea and Little Man helped me make Hot Cross Buns.  As we made these, we talked about the significance of today – Good Friday.  What a sweet time of remembering how Jesus died on the cross for us.
There are several recipes available to make these buns but this one is our favorite.
Ingredients:
4 t. yeast
1 cup warm milk
2 T butter, softened
2 eggs
1/4 cup sugar
1/2 t salt
3 cups flour
1/2 cup raisins, chopped
1/2 t cinnamon
1 egg yolk
1 T water
1 cup powdered sugar
1/2 t vanilla
1-2 T milk
Directions:
In a small bowl, dissolve yeast in warm milk.  Stir in butter, egg, sugar, and salt.  Combine 1 1/2 cups flour, raisins, and cinnamon.  Add dry ingredients to yeast mixture.  Stir in remaining flour to form a soft dough.  Turn onto a flour surface and knead until smooth and elastic (about 4-6 minutes).  Place in a greased bowl, turn once to grease top.  Cover and let rise in a warm place until doubled.
Punch dough down.  Shape into 2″ balls.  Place 2″ apart on a greased baking sheet.  Using a sharp knife, cut a cross on top of each bun.  Cover and let rise until doubled (about 30 minutes).
Beat egg yolk and water; brush over buns.  Bake 375 for 13-15 minutes.  Cool on wire racks.  Combine powdered sugar, vanilla, and milk.  Pipe over buns.