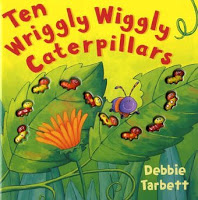 There are several wonderful "count-down" books available to help your child understand the progression of counting backwards. One book that I recommend on the 3 Year Curriculum's Book of the Week is
Five Little Ducks
.
Another great book is
Ten Wriggly, Wiggly Caterpillars
by Debbie Tarbett. I am not sure where my mom occurred this book but it is a favorite among the grandkids.
Immediately a child or adult is drawn into this book by the beautifully colored illustrations and 3D caterpillars. The book opens with ten caterpillars. Slowly, the caterpillars go away leaving one less caterpillar each time. At the end of the book, the caterpillars all return as a pop-up display of beautiful butterflies. The rhyming verses are delightful and beg to be read again.
This book would also be a nice addition to Easter stories about butterflies as well.