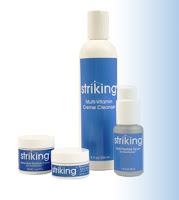 The mirror and calendar along with the ages of my kiddos remind me that I am getting older. I bet I am not alone on these thoughts! For a while I have been thinking that I really should take better care of my skin. But I didn't know what to use. God provided Striking Skin Care by Helix BioMedix for me to review. I have been very impressed!
I received the following four products:
•Striking Multi-Vitamin Cleanser, 8 oz bottle
•Striking Multi-Peptide Serum, 1.13 oz bottle
•Striking Rejuvenating Eye Creme, 0.5 oz jar
•Striking Restorative Moisture Creme, 1 oz jar
SmartPeptides target areas that need improvement in the appearance of aging skin such as age-related skin characteristics: lines and wrinkles, loss of elasticity, loss of firmness and definition, appearance of darkened areas or general unevenness of skin tone, rough texture, and thinning of the skin.
Momma C's Thoughts: The very first day of use, I thought my skin felt tighter. Then I remembered that I had used a new skin product. I kind of chuckled as I thought "wow!" That feeling has continued. I will also say that the lines on my face are fewer. I also believe that my skin tone is more even. What amazes me is that even after approx. 3 weeks of use, you would look at my bottles and think that they are brand new. This is because you use so little of this product each time. These items will last me several months – even with twice a day use. That is impressive! To add, I have extremely sensitive skin and have to be very careful what I put on my face (cleanser and makeup.) I have had no irritation while using this product. My only negative to share about these product is that the moisturizer does not contain sunscreen. A representative from the company said, "As our line grows we are adding a sunscreen to the line to answer this demand."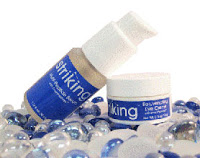 Giveaway: Striking Daily Defense Product Duo (value $100).
Wow-oh-Wow! Yes you read this correctly. I have been giving the opportunity to give away $100 in skin care!!!!!
How to win:
Leave a comment telling everyone how much you would like to win this skin care product!
Want to increase your chances of winning?
•Grab one of our buttons and post it to your site.
•Follow our blog (on the right under "Follow Along").
•Blog about this giveaway.
Leave a separate comment per entry (up to four entries). This giveaway will end Thursday, September 9th at 11:59 p.m. Be sure to check back on Friday, September 10th as a post will be made on this blog announcing the winner! Product will be shipped by Helix BioMedix.
Find out more about these products at these links:
http://www.strikingskincare.com/
http://twitter.com/strikingskin
http://www.facebook.com/pages/Bothell-WA/Striking-Skin-Care-with-SmartPeptides/90284692690

This is a Mamabzz review. Thank you to Helix BioMedix for giving me this opportunity!