Making cards is a great craft for kids. They work on imagination and fine motor skills. Above that, they work on showing love to others when these cards are mailed or given away. The picture below is the latest in our crafts experiments.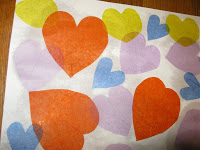 I was looking for a get-well-soon card and came upon the idea of using vinegar and tissue paper as craft. The kids really enjoyed this activity and it wasn't much work to prepare or clean up.
Supplies:
Paper
Paint Brush
Tissue Paper
Vinegar
Scissors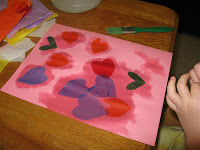 Cut out shapes or tear pieces of tissue paper. Using a brush, paint the vinegar on the paper. Place a piece of tissue paper on the wet surface. Paint over the tissue paper. When finished allow the paper to dry. The tissue paper will easily fall off when dry.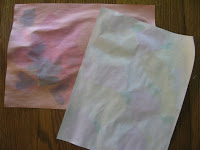 What is left is a "watermark" coloring from the tissue paper. It is faint enough to be able to add writing on top but yet leaves a pretty undertone.
For more card ideas, click on these links: