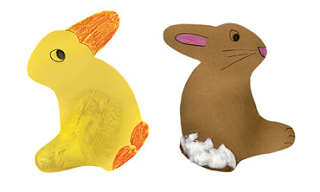 Once again Your Big Backyard
has produced a fun activity for us. The kids were so excited to see how the same pattern made two different animals. Visit the National Wildlife Federation to print off your own pattern. This makes a fun Easter activity or would go along with books like – Duck on a Bike
, Runaway Bunny
, and Five Little Ducks
.
Here are a few suggestions that I learned while doing this craft with our kiddos:
-The kids had trouble coloring the beak as it wanted to tear with the pressure. I would suggest coloring it before cutting it out.
– We didn't have feathers so we used glitter instead.
– Tracing the duck onto construction paper was very difficult. For littler kids I would suggest have the tracing already done but allow them to cut it out (with help if needed). Check out of the "Teaching How to Use Scissors" page if you need suggestions.