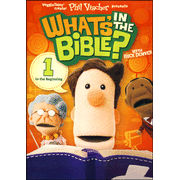 What's in the Bible?: Genesis – Volume 1, In the Beginning DVD
My family and I just sat down to view the very first video in the brand new – not released yet – DVD series called What's in the Bible. I am pretty excited. The kids were laughing and exclaimed many times that they really liked the video. My husband and I were laughing and asking each other "did-you-know-that" questions as we learned about God's Holy Book – the Bible. (I had no idea that the word "testament" means "promise"!)
Soon, I will be giving a detailed review of this new series by Veggie Tales' creator Phil Vischer. Giving you the information you need to know about purchasing this series for your family.
Stay tuned as in the next few days, I am also going to giving you links to coloring sheets, videos, and more. Plus… I have…
TWO coupons for a
to GIVE AWAY!!!!
Stay tuned to see how you can throw your name into this drawing.
I am excited for the opportunity that my family has been given by Tyndale Publishing to get a sneak peak. I am excited for you because you will be able to benefit too!