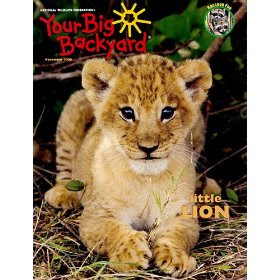 Your Big Backyard
continues to be one of our favorite magazines! As soon as possible, we park ourselves on the couch to read learn about animals, catch up with Bonnie the bluebird, Ricky the raccoon, and other animals. Once again, we weren't disappointed.
The February 2010 edition features elephant seals. We also learned how different animals take baths. The kiddos thought it was so cool that some animals take dirt baths! But my favorite was a story of Ricky and Pals. Kathy Kranking's story "Let is Snow" was filled with fun activities that the animals did before and during a snow storm.
The animals made paper snowflakes, snowflake cookies, and at their Science Station looked at snowflakes under a magnifying glass. We have continued this story by doing these activities ourselves!
Make stories come alive. Always let learning be fun.