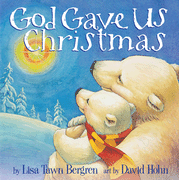 As Little Cub and her family prepare to celebrate the most special day of the year, the curious young polar bear begins to wonder… "Who invented Christmas?" Mama's answer only leads to more questions like "Is God more important than Santa?" So she and Little Cub head off on a polar expedition to find God and to see how he gave them Christmas. Along the way, they find signs that God is at work all around them. Through Mama's gentle guidance, Little Cub learns about the very first Christmas and discovers that… Jesus is the best present of all.
This enchanting tale provides the perfect opportunity to help young children celebrate the true meaning of Christmas and to discover how very much God loves them.
God Gave Us Christmas is another from the series God Gave Us… by Lisa Tawn Bergren. In my opinion, this book along with God Gave Us You tie for her best.
I was delighted to see how Bergren kept Jesus the main focus of Christmas. Every aspect of the holiday went back to Jesus. For those who use Santa as part of their Christmas celebration, Bergren didn't dismiss the character but explained the "Santa Clause reminds us about many good things like generosity and care. But it is God and Jesus that we celebrate most come Christmas."
This book has been added to the 4 Year Curriculum during December. Just as with God Gave Us Love, I believe this book is too in-depth and long for the 3 Year Curriculum.