I love getting emails from you! Questions, comments, and suggestions help me help you! Anne sent me an email suggesting a Christmas book. Here is her review: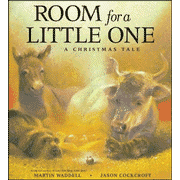 Room for a Little One: A Christmas Tale
The kind ox is keeping warm in his stable by the inn. One by one, animals looking to get out of the cold come to his stable and he kindly invites each one of them in. Finally, the tired donkey comes along with Joseph and Mary but there was no room for them at the inn. As Mary inquires about where her baby will be born the kind ox again says there is always room for a little one in his stable. So on "that cold winter's night beneath the star's light… a Little One came for the world."
I enjoyed the simplicity of this book. My two boys ages 3 and 2 love animals so this book kept their attention and taught them the wonderful message of Christmas as well as a good lesson about kindness. What really makes this book stand out are the beautiful, lifelike illustrations.
View at: Christianbook.com or Amazon


Thank you so much Anne for this suggestion. Do you have a book, toy, Cd, or game that you would suggest?