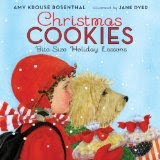 My mother in law introduced us to the book Christmas Cookies: Bite-Size Holiday Lessons
by Amy Rosenthal. I fell in love with it immediately. I loved how the author took big "life" words and compared them to making cookies in a way that a child could easily understand.
"FRUSTRATED means, I can't believe we burned them again / PERSEVERANCE means, We tried and tried and tried, and finally we made the perfect non-burned batch," and "HOPE means, I'm filled with good feelings about what will be."
Use this book in the kitchen to cook up some great character traits!
Be sure to read Cookies: Bite-Size Life Lessons
after the holiday season! This book is suggested to supplement the 4 Year Curriculum at ABC Jesus Loves Me.