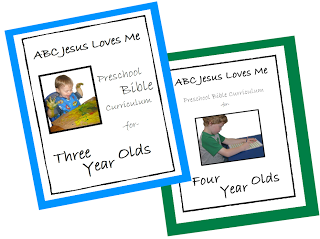 Jennifer left this question on Facebook:
Which [curriculum] would you recommend to use with both a 3-year-old and 4-year-old together?
I found myself in this situation last year with Bubs and Sweet Pea. Bubs was one year away from kindergarten and Sweet Pea was three years away. Bubs could write all of this numbers and letters as well as starting to read while Sweet Pea was just beginning everything.
Here is what we did:
Bible – 4 Year (I wanted Bubs to have the character education)
Verse – 4 Year
Song – 4 Year
Poem, Fingerplay, Nursery Rhyme – 3 Year
Book of the Week – 3 Year
Letters and Numbers – split (Bubs – 4, Sweet Pea 3)
Math – split
Information – Bubs only
Color – split
Name – Sweet Pea only
Fine/Gross Motor – combined doing one or both curriculum each week
Visual Perception – Bubs but sometimes Sweet Pea as well
In a nutshell – the educational ideas were split while the Bible and songs were combined.
This fall, Little Man (4 years until school) and Sweet Pea (2 years until school) will both be using the 3 Year Curriculum. While I will only focus on the basic items with Little Man, I will add in more of the writing with Sweet Pea.
What does this mean for you?
1st – Figure out how many years each child has before Kindergarten. A child who has only one year needs to be doing the 4 Year or 5 Year Curriculum if possible so that they are prepared. If both children have at least two years before starting school, you may be able to do the 3 Year Curriculum together focusing on different levels of learning and stealing ideas from the 4 Year Curriculum for the older child.
2nd – Using the Objective Pre and Post Test, figure out what each child knows.
3rd – Remember that the age difference will probably mean a difference in learning speed and development. Keep this in mind as you set your expectations.
This blog post gives a few different scenarios to help make your decision.